Functioning hydrocarbon system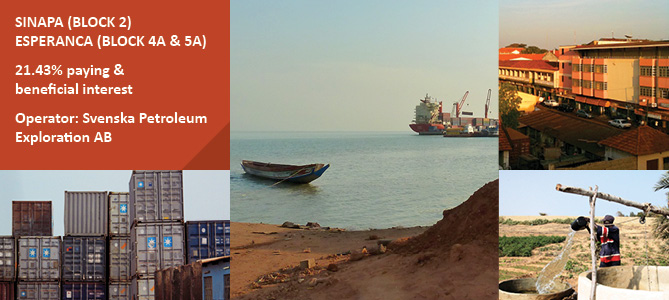 The underlying exploration potential of offshore Guinea-Bissau has long been recognised given the functioning hydrocarbon system, good potential reservoirs and multiple drillable prospects in a wide shallow water shelf setting. Encouraging results from 3D seismic acquired in 2010 has identified numerous prospects and leads.
The contiguous Sinapa and Esperanca permits are located within the Casamance salt sub-basin offshore Guinea-Bissau. FAR retains a non-operating interest in these two permits, which comprises of three blocks (2, 4A and 5A) covering an area of almost 5,000km2.  Over 70% of the acreage lies above a water column of less than 100m with a maximum water depth approaching 1,500m outboard west.
The Sinapa permit hosts the Sinapa oil discovery – a shallow water salt-related feature with contingent resources of ~13.4mmbbls of recoverable light oil (unrisked, 2C case, 100% basis). FAR's geotechnical evaluation of this original discovery highlighted further potential surrounding the salt diapir. These additional resources support a prospective resource of over 72mmbbls recoverable (unrisked, best estimate, 100% basis). A full prospectivity review of the blocks conducted in 2017 identified an exciting shelf-edge geological setting – a proven play fairway in Senegal – along the western parts of the licences. Two prospects Atum and Anchova (Greater Atum), were high-graded for follow up drilling. The Joint Venture made significant advances throughout 2018 in preparation for the drilling of a well in the licences.
FAR expects drilling activities over the coming 12 to 24 months will generate significant new interest in exploration offshore Guinea-Bissau.
More information
For further information and up-to-date progress on FAR's Guinea-Bissau licences, please visit the Announcements & Reports section of the Company website.