FAR discovers deep water elephants

World's largest oil discovery for 2014: Sangomar oil field
FAR (15% interest) made two world class oil discoveries in the FAN-1 and the SNE-1 wells, in the Sangomar Deep portion of its offshore Senegal PSC in late 2014. These two "basin opening" discoveries, dramatically changed global oil industry perceptions of the region's petroleum prospectivity, transforming Senegal into one of the world's most sought after exploration destinations. The Rufisque, Sangomar and Sangomar Deep (RSSD) offshore Production Sharing Contract (PSC) covers an area of approximately 7,490 kilometres² over the shelf, slope, and basin floor of the Senegalese portion of the productive Mauritania-Senegal-Gambia-Guinea-Bissau-Conakry Basin.  The Sangomar Field (formerly SNE) has subsequently been appraised with 7 successful wells over two drilling campaigns, completed in mid 2017. The appraisal proved the size and deliverability objectives, FID was reached in January 2020 and first oil is targeted for 2023.
In addition to the appraisal of the Sangomar Field, FAR and it's JV partners have made two more discoveries offshore Senegal with the FAN South-1 and SNE North-wells drilled in 2017. These discoveries, along with FAN-1 are yet to be appraised but demonstrate the prolific oil-bearing nature of the source rocks in the basin.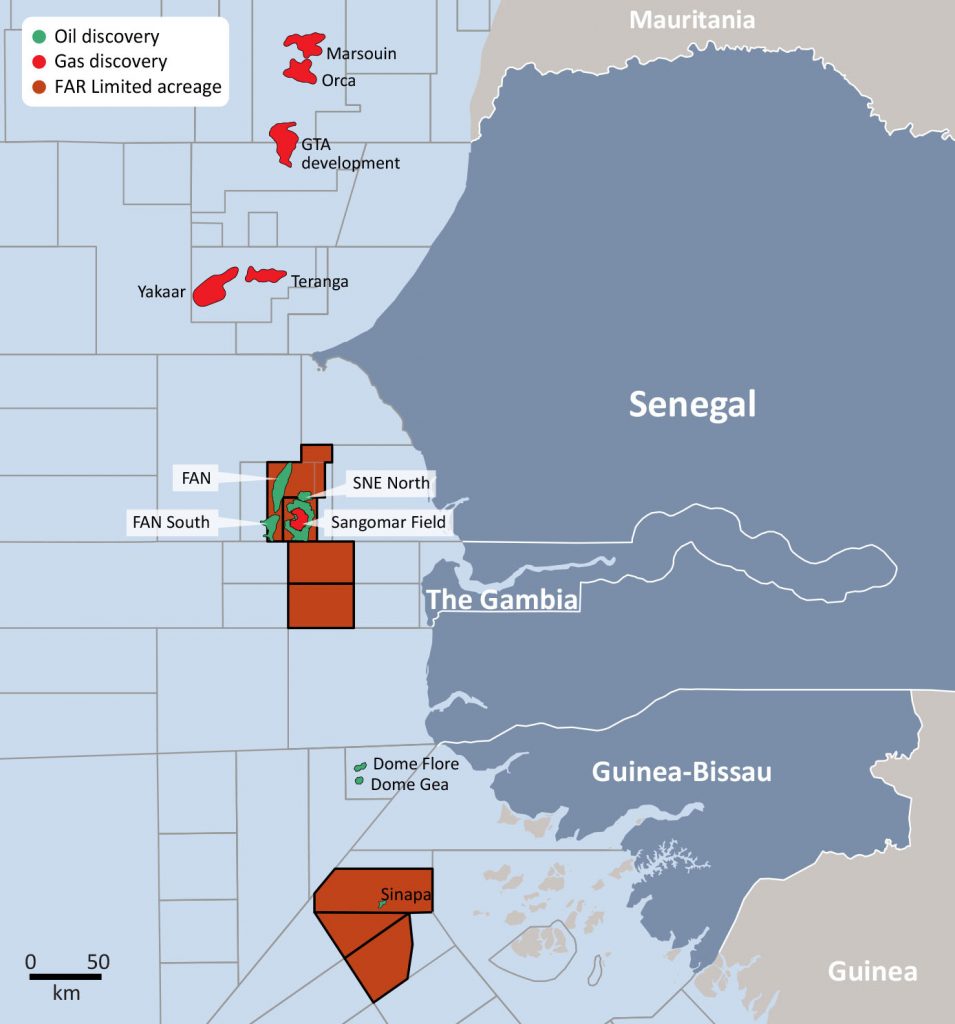 Development
The Development and Exploitation Plan for the Sangomar Field offshore Senegal was submitted to the Government of Senegal by the joint venture late 2019 with the exploitation authorisation issued in January 2020.
The Sangomar Field will be developed using a conventional (and often utilised) development concept with subsea production and injection wells tied back to a standard floating production, storage and offloading (FPSO) vessel. The size of the field in terms of in-place reserves, the number of reservoir intervals and its aerial extent will result in the field being developed over a number of phases. Phase 1 of the development will involve 23 development wells targeting 231 mmbbls reserves (100%, ca. 28 mmbbls reserves FAR net  entitlement) in four reservoir units. A further 253 mmbbls of contingent resources (100%, ca. 32 mmbbls resources FAR net entitlement), are currently planned to be developed in future phases of the Sangomar Field development. These future phases are envisioned to target the wider area of the field plus additional reservoir intervals and be optimised using information gathered during Phase 1 development and early field-life production results.
The FPSO is designed for production of 100,000 bbl/day (gross or 13,670 net to FAR) of oil which will be processed on the facility before export via tankers. The FPSO is designed to allow for the efficient integration of future development phases, including the potential for delivery of gas to Senegal.
Development activities are progressing through 2020 and beyond, with contracts for construction of the FPSO, and notices to proceed with drilling and subsea construction and installation issued in January 2020.
A detailed table of FAR's Reserves and Contingent and Prospective Resources in Senegal are listed below: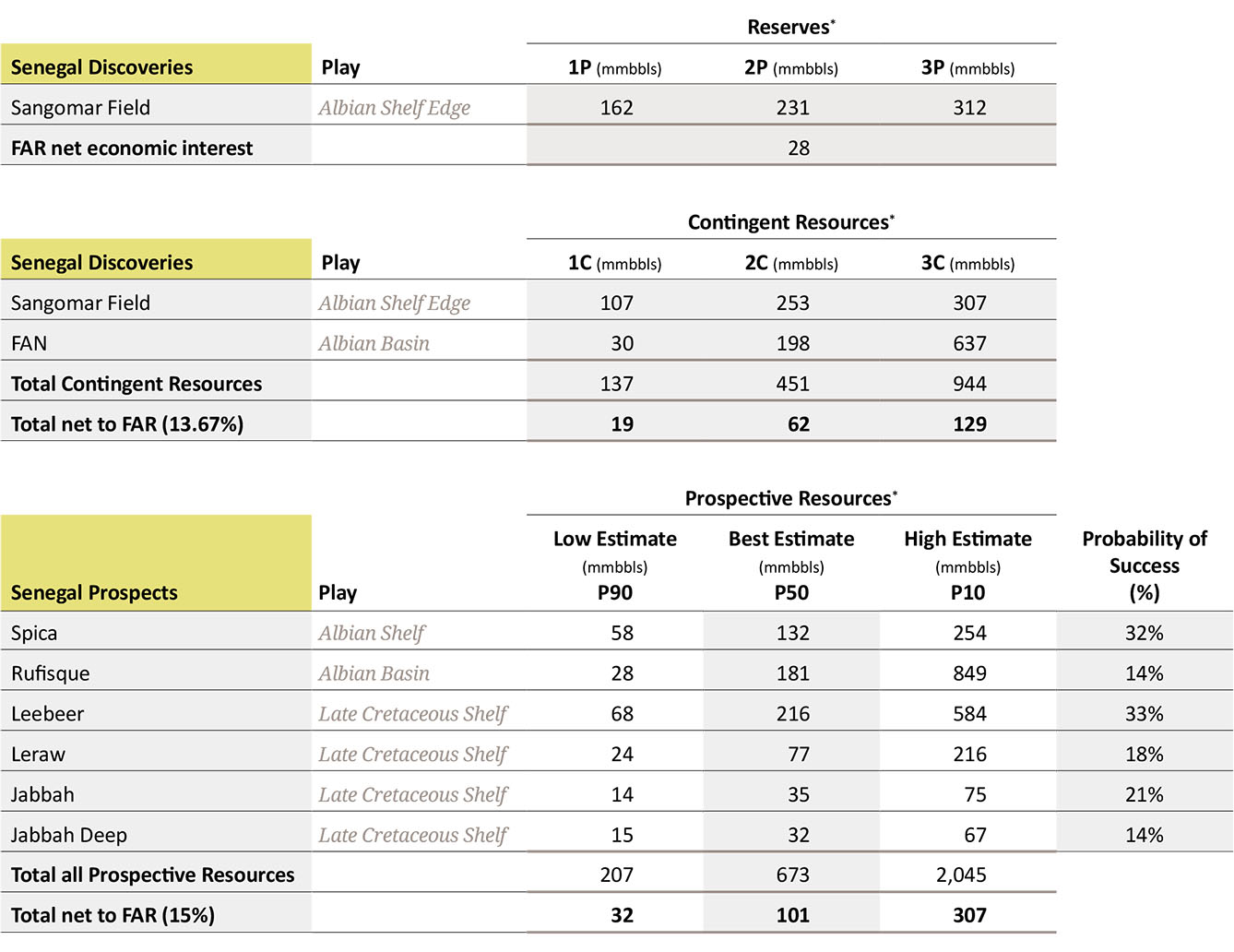 Senegal: stable & democratic
Senegal is one of Africa's most politically and economically stable countries and hosts some of the best transportation, telecommunications and communication infrastructure in West Africa. Senegal has been a functioning democracy since independence from France in 1960 and enjoys free and fair elections. In July 2013, Senegal made a submission to join the Extractive Industries Transparency Initiative (EITI) which symbolises the ambition of Senegal to make good governance a reality in the management of public affairs and its intention to make the extractive sector an engine of economic growth. Standard & Poor rates Senegal's sovereign credit rating as B+/B and the country has a projected growth rate of 6% in 2017, one of the strongest in Africa.
More information
For further information and up-to-date progress on FAR's Senegal licences, please visit the Announcements & Reports section of the Company website.