Large equity position in a fast emerging oil and gas margin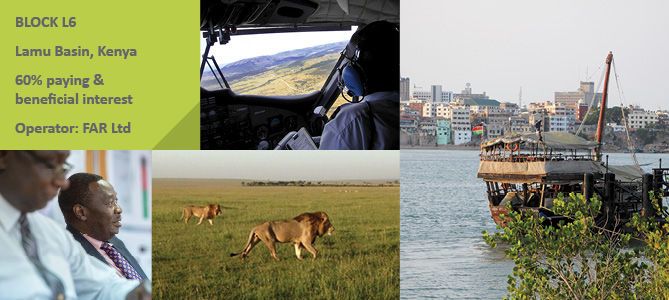 In Block L6 FAR holds 60% offshore and a 40% onshore paying and beneficial interest and is also the permit Operator. The Block is located in the highly prospective East African margin in the Lamu Basin, Kenya, north of recent, world-scale, natural gas discoveries totalling around 100 trillion cubic feet off the coasts of Mozambique and Tanzania.
While explored by major oil companies since the 1950s, no exploration activity was carried out in the Lamu Basin between 1986 and 2002. Now a significant proportion of the Lamu Basin is leased to major players, including Anadarko, TOTAL, ENI and BG Group.
L6: Billion barrel combined prospective resource potential
The Block L6 permit area, over, 3,134 kilometres², has both onshore and offshore potential with water depths varying from shallow transition zones to approximately 400 metres.
In February 2014, FAR completed its third farm-out to the Milio group of companies leaving FAR fully carried through a proposed onshore well and an onshore 2D seismic survey and associated processing and interpretation.
Since executing the farm-out agreement, the agreed onshore work program, to be operated by Milio International has suffered delays due to civil upheaval and security incidents in the region that arose during 2014. As a result of these incidents, the Ministry of Energy and Petroleum of Kenya awarded the Block L6 joint venture an extension and it is working with the Block L6 participants to ensure appropriate access for petroleum operations is established.
FAR is planning for a 2D seismic survey to commence as soon as possible and is continuing discussions with the Government of Kenya to secure suitable arrangements pursuant to the Petroleum Sharing Contract to allow exploration activity that has been hindered by past security incidents and land access issues, to commence.
In relation to the offshore portion of Block L6 where FAR has a 60% interest, FAR has been progressing a farm-out initiative for drilling an offshore well. The Sunbird-1 oil discovery in the nearby Kenya Block L10A targeted a Miocene reef structure. The Miocene reef play extends along the coast of Kenya and through Block L6. The discovery of oil in the Sunbird-1 well at the southern extent of the Miocene reef play and evidence for oil in the Maridadi well, drilled at the northern extent in L6, has generated strong industry interest in FAR's Block L6 farm-out.
In 2012, FAR completed a 778 kilometres² 3D seismic survey over the L6 permit offshore Kenya. The survey was conducted by Fugro Geoteam and was completed within the approved budget and expected schedule. Combined with existing 2D mapping, FAR has identified a number of hydrocarbon play types and prospects. Within the additional 3D coverage, FAR has matured three prospects (Tembo, Kifaru and Kifaru West) which have prospective resources of 327, 178 and 130 million barrels of oil (un-risked best estimate, 100% basis) respectively, or in a gas only success case, 807, 517 and 388 billion cubic feet of gas. The chances of a discovery of the three prospects have been assessed to be 21%, 19% and 18% respectively.
Combined prospective resources for the L6 Block have been assessed at 3.7 billion barrels of oil or 10.2 trillion cubic feet of gas (un-risked, best estimate, 100% basis).
More information
For further information and up-to-date progress on FAR's Kenya licence, please visit the Announcements & Reports section of the Company website.