Multi-billion barrel potential on trend with Sangomar Field in Senegal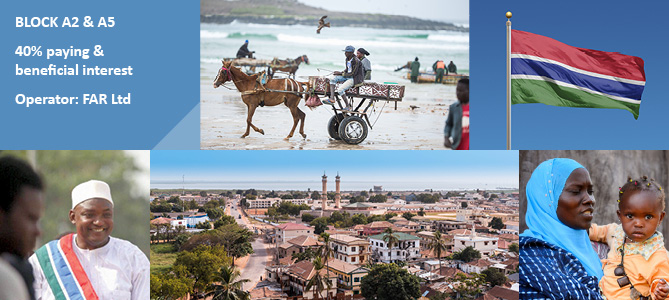 In 2017, FAR acquired an 80% working interest and Operatorship in two highly prospective offshore Blocks – A2 and A5 – offshore The Gambia, located on trend with and adjacent to FAR's Senegal blocks encompassing the world class Sangmoar Field. Blocks A2 and A5 have been independently assessed to contain prospective resources on a best estimate basis of more than one billion barrels of oil. The Gambian prospectivity is in a continuation of the 'shelf edge' play that houses the giant Sangomar Field offshore Senegal.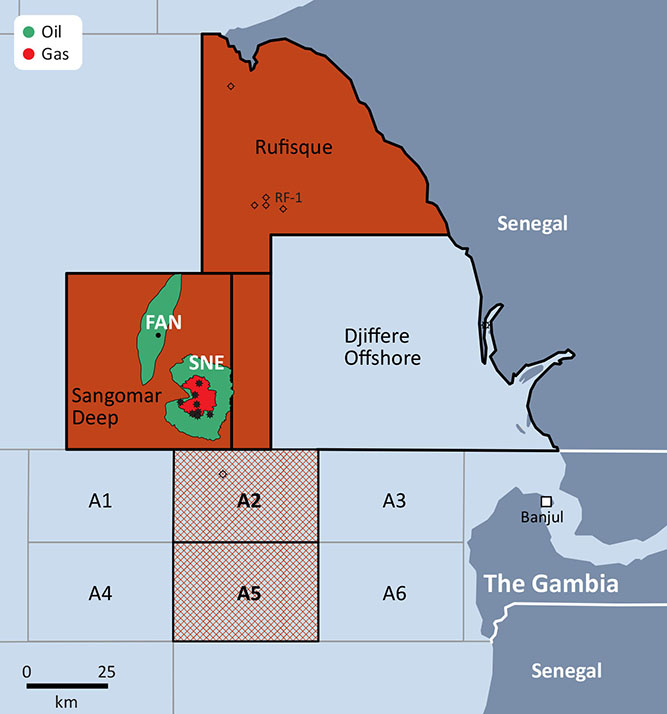 The Gambia Blocks A2 and A5
FAR expanded its West African exploration portfolio in March 2017 in the offshore Mauritania-Senegal-Guinea-Bissau Conakry Basin (MSGBC) through a farm-in deal to acquire an 80% working interest and operatorship in two highly prospective offshore blocks, A2 and A5, in The Gambia.
In February 2018, FAR signed a farm-out agreement with PETRONAS, the Malaysian National Oil Company to assign a 40% interest in each of blocks A2 and A5 with FAR retaining a 40% interest. PETRONAS will fund 80% of total well costs of the Samo-1 well which was drilled in the Samo prospect in block A2 late 2018.
Blocks A2 and A5 are adjacent to and on trend with FAR's world class Sangomar oil field discovery and have significant exploration potential.
The blocks cover an area of approximately 2,682km2 within the rapidly emerging and prolific Mauritania-Senegal-Guinea-Bissau-Conakry ('MSGBC') Basin. They lie approximately 30km offshore in water depths ranging from 50 to 1,200 metres.
In combination, Blocks A2 and A5 have potential to contain prospective resources in excess of 900 million barrels of oil (on an unrisked, best estimate, 100% basis).
From 1,504 km2 of modern 3D seismic data acquired in the blocks, FAR has identified large prospects similar to the 'shelf edge' plays FAR is targeting in Senegal. FAR has mapped several potentially drillable prospects and leads.
The Gambia, officially the Republic of The Gambia, is the smallest country in mainland Africa and is surrounded by Senegal except for its coastline on the Atlantic Ocean. The Gambia is situated on either side of the Gambia River, the nation's namesake, which flows through the centre of the country.
More information
For further information and up-to-date progress on FAR's Gambian licences, please visit the Announcements & Reports section of the Company website.