Multi-billion barrel potential on trend with Sangomar Field in Senegal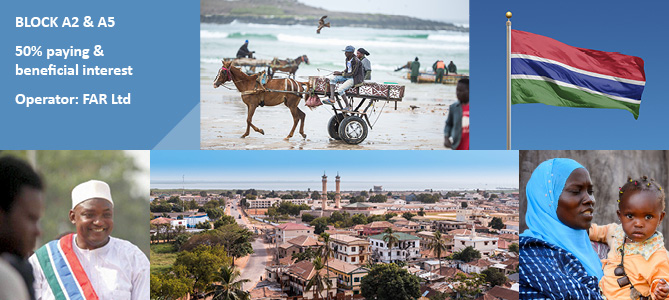 In 2017, FAR acquired working interest and Operatorship in two highly prospective offshore Blocks – A2 and A5 – offshore The Gambia, located on trend with and adjacent to FAR's Senegal blocks encompassing the world class Sangmoar Field. Blocks A2 and A5 have been independently assessed to contain prospective resources on a best estimate basis of more than one billion barrels of oil. The Gambian prospectivity is in a continuation of the 'shelf edge' play that houses the giant Sangomar Field offshore Senegal.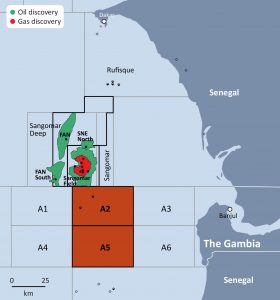 The Gambia Blocks A2 and A5
FAR expanded its West African exploration portfolio in March 2017 in the offshore Mauritania-Senegal-Gambia-Guinea-BissauConakry Basin (MSGBC) and now holds 50% interest and Operatorship in two highly prospective offshore blocks, A2 and A5 in The Gambia. The blocks cover an area of approximately 2,682km2 within the rapidly emerging and prolific Basin and lie approximately 30km offshore in water depths ranging from 50 to 1,200 metres. In combination, Blocks A2 and A5 have potential to contain prospective resources in excess of 1 billion barrels of oil (on an unrisked, best estimate, 100% basis).
FAR's expansion into neighbouring The Gambia in late Q1 2017 met the company's strategic objective of continuing to explore the conventional liquids-rich plays within the MSGBC Basin. In late 2018, as Operator of the A2 and A5 Blocks, FAR drilled The Gambia's first offshore well in almost 40 years and the country's first ever deep water well, Samo-1. This all occurred within 18 months of being on title – a remarkable achievement for a junior explorer. Importantly, these activities were delivered with operational safety and drilling efficiency on par with much larger and more experienced operators.
Integrating data from Samo-1 into FAR's existing geological and geophysical models has been vital in  developing an improved understanding of the petroleum system within this basin and as a result, further prospectivity has been identified within our blocks. An assessment of the potential hydrocarbon resources contained within the A2 and A5 licences revealed a combined prospective resources upgrade to approximately 1.3 billion barrels (Unrisked, Best Estimate, 100% gross basis) contained in several large shelfedge prospects and leads in a similar depositional setting to the Sangomar Field adjacent in Senegal as shown in the table below: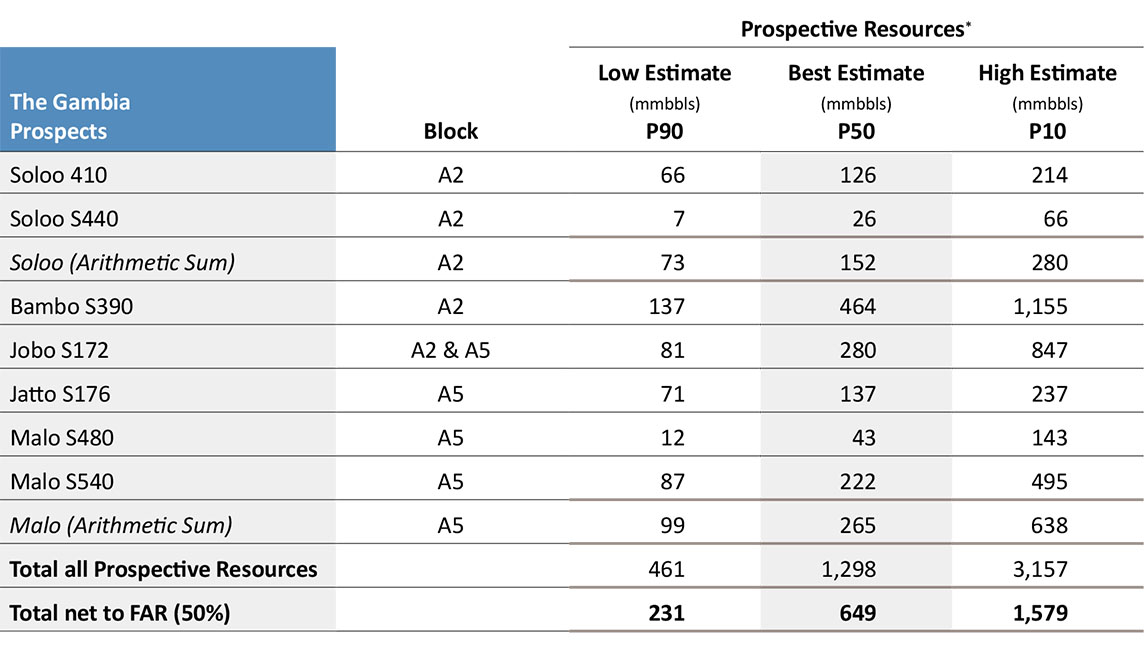 With renewed prospectivity and ongoing geotechnical projects including seismic reprocessing and new 3D acquisition to assist with maturing leads and prospects to drillable status, the A2 and A5 joint venture initiated well planning activities in Q4 2019. Technical and commercial analysis supports drilling to test the Soloo prospect (152 mmbbls, P50, gross), which FAR has mapped as the southern culmination of the Sangomar Field extending into The Gambia. The Soloo prospect has two main reservoir targets that were both hydrocarbon-bearing in the Sangomar wells with preparations now underway for the commencement of drilling operations. Initial planning has further highlighted the opportunity to locate a single well to intersect both the Soloo prospect and a shallower, secondary target at the Bambo prospect (464 mmbbls, P50, gross).
The operational team that managed the Samo-1 well campaign was reassembled in Q4 2019 with significant progress being made. As operator of the A2 and A5 licences, FAR expects to make announcements in respect of material developments to its well planning and progress in bringing a new partner to fund FAR's share of the drilling costs during 2020/2021. The Gambia, officially the Republic of The Gambia, is the smallest country in mainland Africa and is surrounded by Senegal except for its coastline on the Atlantic Ocean. The Gambia is situated on either side of the Gambia River, the nation's namesake, which flows through the centre of the country.
More information
For further information and up-to-date progress on FAR's Gambian licences, please visit the Announcements & Reports section of the Company website.