Environment and Climate Change
FAR recognises its responsibility to support greenhouse gas emissions reduction initiatives where it can. FAR supports host governments in their efforts to take action on these emissions whilst maintaining a secure and affordable energy supply during a transition to a lower emissions future. FAR acknowledges its own responsibilities in this context and its commitment to be part of a combined approach of a reduction in greenhouse gas emissions. FAR acknowledges the Paris Agreement, which pledges to limit the rise in temperature to below two degrees Celsius and supports efforts to create a coordinated global emissions reduction process.
As FAR looks to the future as a producer of oil and gas, FAR strives to do so in line with best industry practice and looks to do this in collaboration with host governments, joint venture partners and other stakeholders.
Climate-related Disclosure
In early 2019, the ASX updated the ASX Corporate Governance Principles and Recommendations to address new and emerging issues, with a particular emphasis on climate change. These updates included changes to the Recommendations that fall under Principle 7, which states that listed entities should recognise and manage risk, and that a "listed entity should establish a sound risk management framework and periodically review the effectiveness of that framework."
The new commentary makes clear that this includes the board "Satisfying itself that the risk management framework deals adequately with contemporary and emerging risks such as….climate change."
It encourages listed entities to adopt the framework of the Financial Stability Board's Taskforce on Climate-related Financial Disclosures (TCFD) to determine whether they have material exposure to climate change risk, and if so, to consider making disclosures recommended by the TCFD. The commentary adopts the TCFD's schema of categorising risks as physical, or transitional. The commentary also encourages "entities that believe they do not have any material exposure to environmental or social risks to consider carefully their basis for that belief and to benchmark their disclosures in this regard against those made by their peers."
FAR is working towards implementing the recommendations of the TCFD.  FAR undertakes to expand its climate-related disclosure capability during 2021. As FAR transitions from an exploration company to an oil and gas producer, the Company intends to work with its joint venture partners, contractors and other stakeholders to further enhance climate-related disclosures.
Managing GHG emissions
FAR estimates that corporate travel, corporate office electricity and seismic data acquisition represented the most significant greenhouse gas (GHG) emission producing activities for 2019/2020. Travel and office related emissions are estimated below.

FAR has implemented prudent, practical and cost-effective actions to reduce our GHG emissions, and FAR's leadership is actively considering a number of new efforts to manage and reduce our GHG emissions. FAR works with host government and Joint Venture partners to seek alternatives to flaring and venting hydrocarbons from exploration and future productions wells, noting that flaring in most of the jurisdictions in which FAR operates is not permitted or highly restricted. In most of FAR's Joint Ventures, the North Sea standards apply.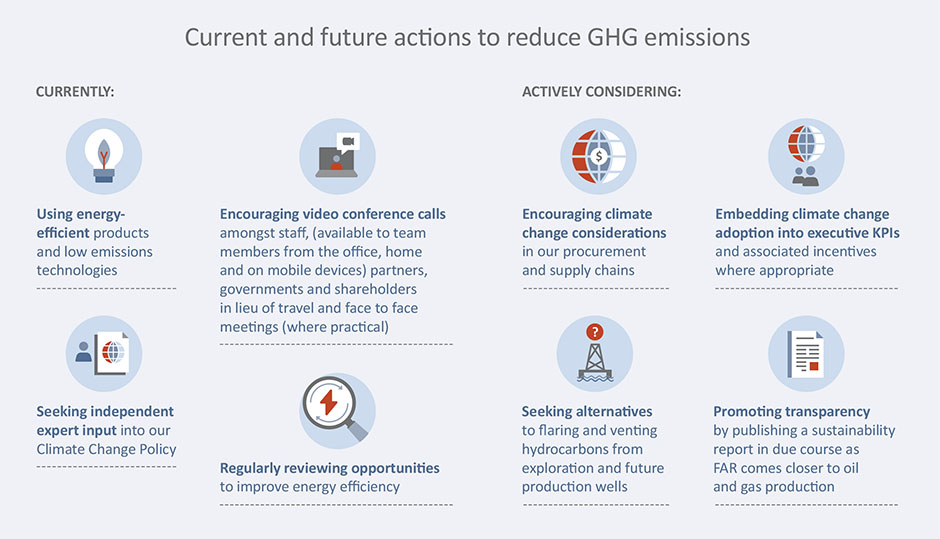 Further information and our full Climate Change policy can be found here.